Blaster Creation Kit for Asset Forge
Initial Release and Launch!
---
If you've been active on the Asset Forge forums lately, you probably came across this thread. It's where I've been posting screenshots and interacting with some Asset Forge users during the development of this product.
How It Started
A few weeks ago, I bought Asset Forge and tried it for the first time ever.
2 hours was all it took me to realize the huge potential of the software.
Almost 5 hours later, I was already testing the different ways to extend the software, and make new blocks.
The next day, I decided that I was going to focus on guns. I had a burning passion for modeling firearms anyway, so I figured: why not use that as a motivation to make a nice collection of blocks that would help me quickly come up with gun concepts, and help the community in the process. So I posted this: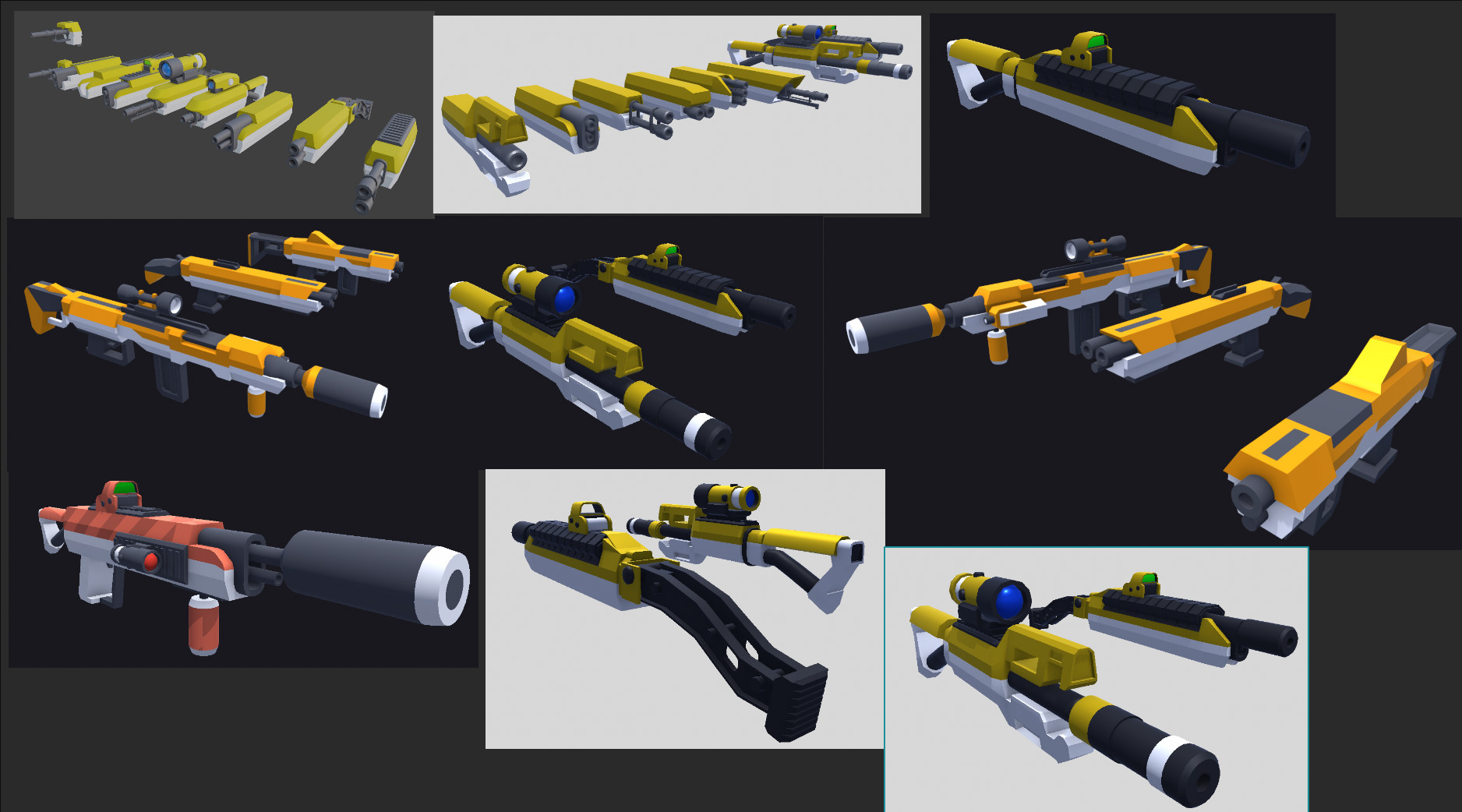 I made barrels, different scopes, and other blocks, and I was still using the vanilla blocks to fill in the gaps.
So naturally, I worked on more block types to complete the collection: grips, magazine wells, magazines, bayonets, etc.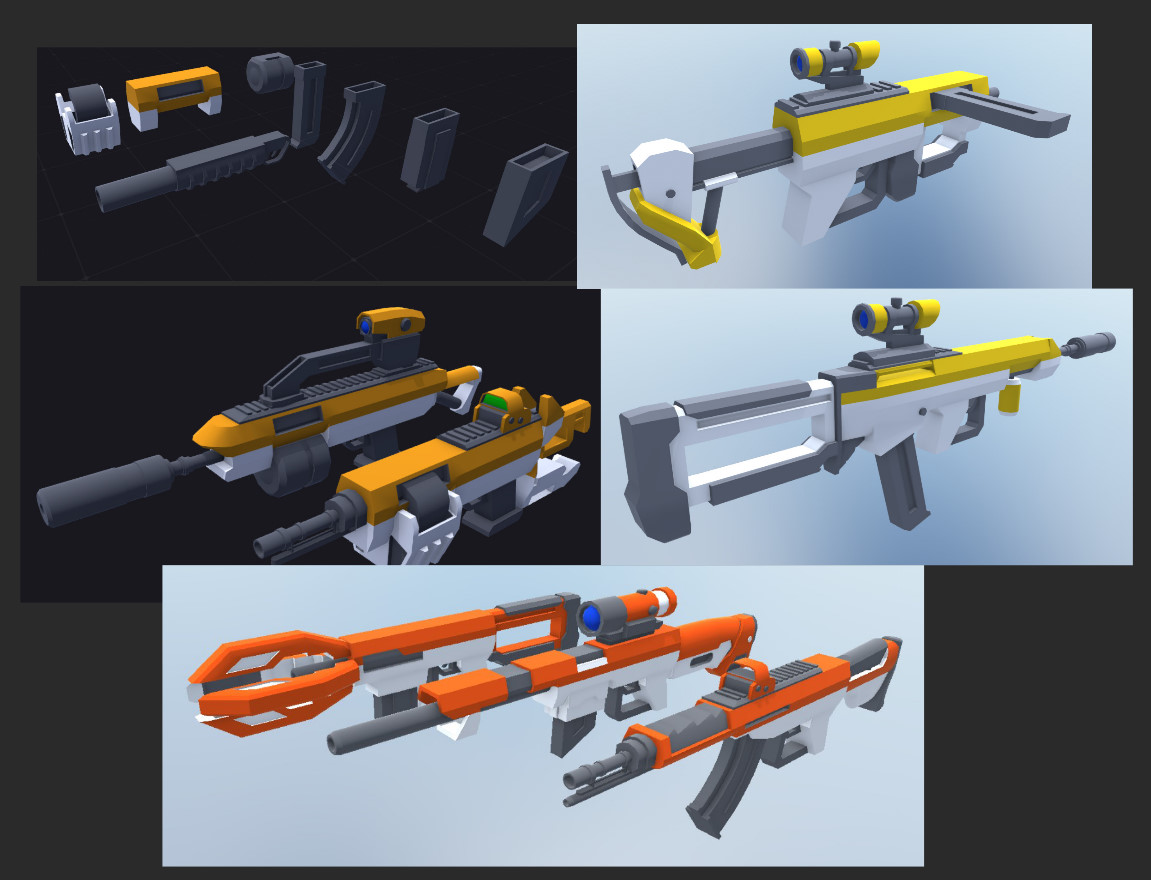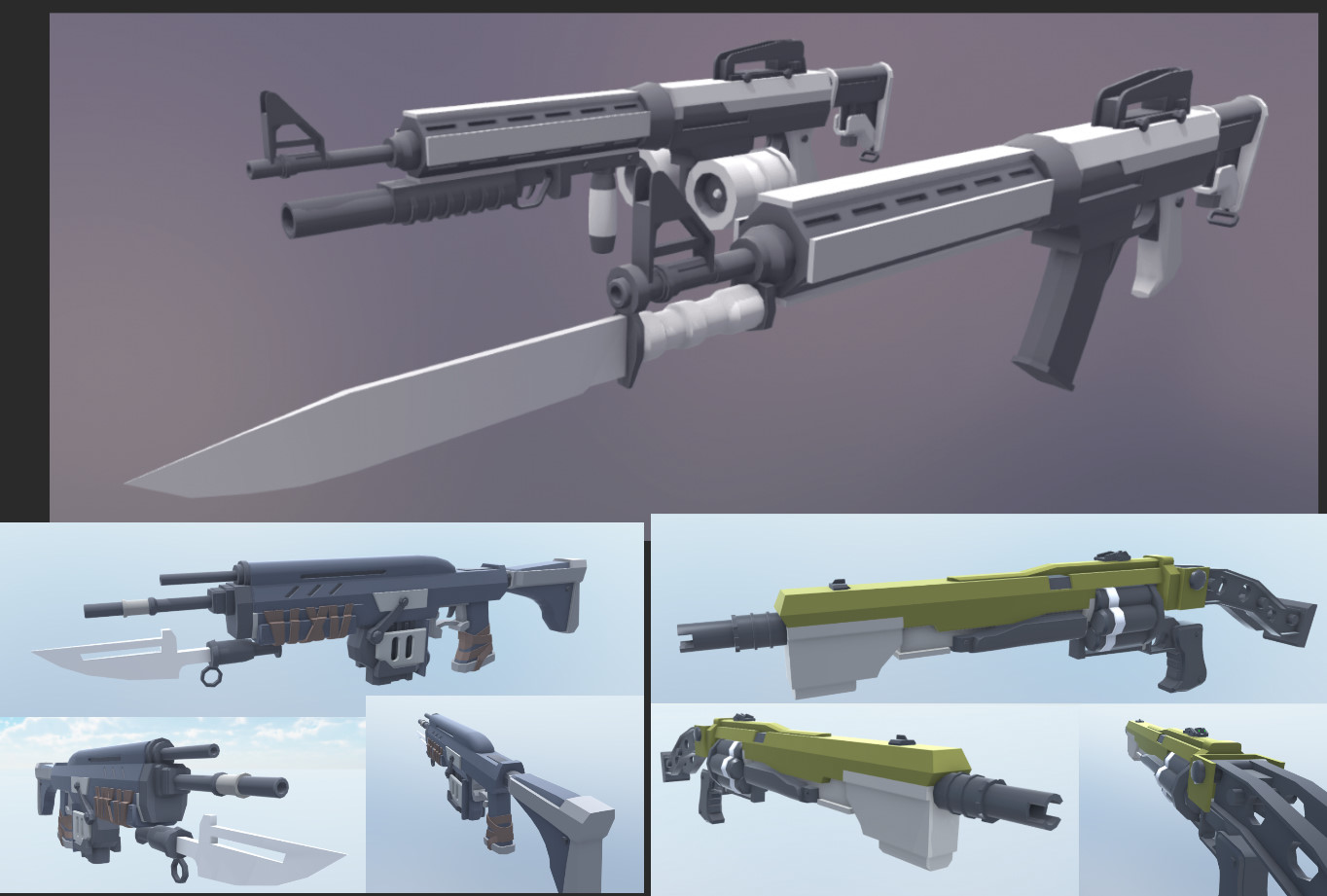 The response of the community on itch, twitter and my tiny youtube channel was overwhelming, so a huge thank you to everyone who liked, commented and retweeted.
The Story Behind The Blocks
In order to make sense of what I was doing, I made up a virtual world in my head where there are different gun manufacturers, each with their own style and purpose, almost every block in this kit was "made" by one of these manufacturers:
Viper, Scorpion, Coyote: makes assault rifles, snipers, pistols and smgs for almost everyone, including mercenaries, private militaries, outlaws, space pirates, etc. The Coyote is inspired by the real-world M4 and its variants, the Scorpion is inspired by the AK, and the Viper a mix between the Vector and lots of other SMGs.
Sentinel: makes weapons for the galactic regular army, the guns look average and are designed to be mass produced.
Predator, Valentine, Prometheus: makes big guns like light machineguns and rocket launchers
Brute, Hercules: specialized in shotguns, makes guns from metal scraps scavenged throughout the galaxy
Carmine: Makes weapons for a primitive race that still heavily relies on physical strength in battle.
Guardian: highly sophisticated weapon parts made by a synthetic race that seeks perfection, and of course, wants to exterminate every living thing in the galaxy.
Launch Day!
The collection was a little over 200 blocks when I decided it was time to launch.
I stopped modeling new things and did some QA instead to make sure everything was in order.
And here we are!
Speed Modeling Videos
I recorded myself working both in Blender (modeling the blocks) and Asset Forge (making guns).
Here are the videos I made in Asset Forge:
And here are the Blender speed-modeling videos:
What's Next?
I have more ideas for blocks that I couldn't make on time for the launch date. So they will be added as content updates in the future.
Don't hesitate to make suggestions and report any glitch you encounter.
Follow us on twitter and on itch to be notified of future development and product launches.
Get Blaster Creation Kit for Asset Forge